Alenda Golf
Town Houses
For Sale
.
Golf Townhouses are spacious at Alenda, many are frontline with views across the golf course.
You can invest in a brand new golf townhouse or an established resale property.
There are a number of excellent investment opportunities available right now – like to know more about Golf Townhouses for Sale at Alenda Golf?
Then call us on +34 469 469 018 or email us info@alendagolfproperty.com and we will be happy to help you locate the right property to live in, use as a holiday home or rent out for golfing holidays.
Thinking of selling your Townhouse then please contact us so we can list your property here on Alenda Golf Property and Costa Blanca Golf Properties for free.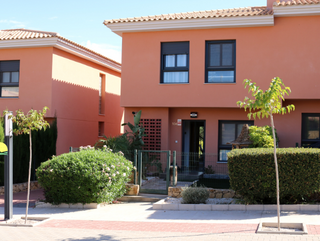 3 Bedrooms & 2.5 Bathrooms | Views to Golf Course | Front & Back Gardens | Large Urbanisation Pool | Casita
3 Bedrooms & 2.5 Bathrooms | Basement Chill Out Area Leads to Garden and Pool Area
3 Bedrooms & 2.5 Bathrooms |Selling Fully Furnished with High Quality like New Furniture | Patio Glass Curtains
3 Bedrooms & 2.5 Bathrooms |Selling Fully Furnished with High Quality Sweedish Wood & Leather Furniture
Alenda Golf Specialist Property Consultants
Need help sellingyour property on Alenda Golf then call us today at  +34 649 649 018
Read what our clients
are saying about us
"I have recently sold my villa on Alenda Golf complex using the local sales agent 'Alenda Golf Properties'.
They took control from the start, giving me a valuation more realistic than other agents, setting up promotion and advertising, bringing in interested viewers and ultimately the buyer.
They organised all necessary paperwork and contractual requirements and it took less than four weeks from agreeing a sale to completion.
I put the property on the market in January this year, a sale was agreed in July and the sale completed in August.
Thanks to Alenda Golf Properties for a job well done."
Les Monks – Frontline Golf
Arcos de Alenda  08/08/2022
We have just completed the sale of our property in Spain very much facilitated by a very professional estate agency called Alenda Golf Properties ( AGP).
AGP director Gloria Cornelius not only provided us with a comprehensive range of sales, admin and legal advice services, but her enthusiasm, attention to detail and tenacity ensured that the sale was completed successfully and to plan. Not only did we establish a good working arrangement with Gloria but we also developed a warm and personal relationship with her which made the negotiations that much more enjoyable.
If there was a five star plus rating then AGP would achieve that rating.
Barry & Pat Starling
Increíble trato, muchas gracias por hacer realidad nuestro sueño.
Es increíble poder encontrar gente como vosotros, profesionales y tan cerca de nosotros que hacéis que todo sea sencillo.
Enhorabuena por vuestro trabajo
August 2022
Google Translated
Amazing deal, thank you very much for making our dream come true. It is incredible to be able to find people like you, professionals and so close to us who make everything simple. Congratulations on your work in August 2022.
Miguel Garcia